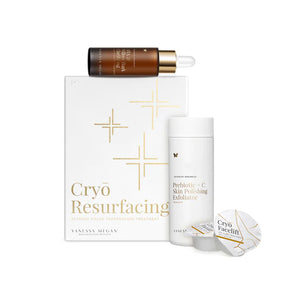 Vanessa Megan
Cryo Resurfacing Extreme Polar Temperature™ Treatment
Regular price
$133.00
$0.00
Unit price
per
Tax included.
Shipping
calculated at checkout.
The ultimate at-home treatment for Super Natural Skin Cell Regeneration.
This dynamic, 100% natural skin resurfacing treatment uses potent ingredients from nature and extreme polar temperatures to induce the body's natural healing system, achieving immediate and lasting results with zero downtime. 
HOW IT WORKS
 Using vigorous exfoliation with our powder exfoliator followed by our potent AHA serum, this duo creates natural heat on the surface of the skin. The skin is then rapidly plunged into extreme cold using our award-winning Cryō Facelift Ice Cube Treatment. This extreme polar temperature creates a slight trauma on the skin, which floods the vulnerable cells with nutrient rich blood and encourages immediate collagen synthesis and aids in decongestion and regeneration of the skin to help create immediate cell repair. This supernatural skin cell regeneration leaves your skin immediately plumper, brighter and visibly lifted.

Not suited to sensitive skin types. Recommended use once a week.
STEP 1 - EXFOLIATE

After cleansing, mix the powder with water to create a paste. Vigorously exfoliate skin in circular motions, paying particular attention to areas with fine lines, discolouration or congestion. Be sure to include your face, neck and décolletage. Buff your skin. Rinse well with warm water. Your skin should feel warm and appear quite flushed after rinsing.
STEP 2 - ACTIVATE

Massage AHA + Willow Bark Anti-Congestion Serum deeply into face, neck and décolletage. The natural fruit acids should tingle when applied to freshly exfoliated skin and skin should still feel very warm and look flushed.
STEP 3 - rapid COOL

Remove Cryō Facelift Ice Cube from the freezer and place in provided muslin cloth. Apply to face, neck and décolletage using swift, circular motions. Massage the entire pod into the skin. You will see an immediate reduction of redness. Allow all serum to absorb. We recommend to follow with a few drops of our N.E.O 12 Hour Miracle Oil.
PACK INCLUDES
Prebiotic + C Polishing Exfoliating Powder  [$69.95]
Get immediate dynamic results with this skin polishing exfoliator, formulated to buff away dead skin cells to allow deeper penetration of oils and serums into the epidermal layer. Pure organic and natural actives of Yoghurt and Rice Enzymes partner with Vitamin C rich Grapefruit to gently uncover a smoother, brighter and more even complexion, revealing flawlessly radiant skin.
AHA & Willow Bark Anti-Congestion Clarifying Serum  [$59.95]
Deep pore cleansing is a critical step to prevent future breakouts. Harnessing some of nature's most powerful astringent and exfoliating ingredients, this serum helps remove oil plugs, dirt, pollution and dead skin cells, thereby helping to reduce blackheads, blemishes and acne and leaving your skin clean, refined and clear. Also good for improving skin texture and visible signs of sun damage.
Cryo Facelift Ice Cube Treatment [$133.20]
This advanced organic serum has been formulated to help plump, lift and firm the skin. Scientifically proven IBR-Dormin® helps deliver a visible firming and plumping effect on the skin, while vitamin c rich native Quandong extract and moisture-rich Hyaluronic Acid join together with fast acting herbal extracts to help combat wrinkles, puffiness and dehydration.

Be sure to freeze Cryō Facelift Ice Cube prior to use. Accompanying muslin cloth included.
---