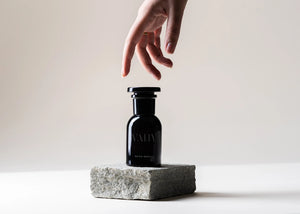 Vahy
Neon Neroli Perfume
Regular price
$164.00
$0.00
Unit price
per
Tax included.
Shipping
calculated at checkout.
SCENT TYPE
White Floral: Neroli | Bergamot | Orange Flower

SCENT NOTES
TOP              Neroli, Bergamot, Orange
MIDDLE       Orange Flower, Ylang Ylang (Madagascar), Petitgrain
BASE            Vetiver, Vanilla, Floral    
DESCRIPTION
This nostalgic scent will transport you to the warmth and vibrancy of an Italian summer. Inspired by La Fontelina and seaside lounging in Capri, Neon Neroli captures the crisp, fresh notes of neroli, orange flower and bergamot, complemented by white floral undertones. 
INGREDIENTS
Ethanol (organic sugarcane alcohol); Methyl Anthranilate (pine oil); Neroli Oil; Orange Flower Extract; Orange Oil; Petitgrain Oil; Phenyl Ethyl Alcohol (soya bean); Triethyl Citrate (sugarcane); Vanillin Natural;  Vetiver Oil; Ylang Ylang Oil; Benzyl Acetate (cinnamomun cassia); Bergamot Oil; Coumarin (cassia oil); Ethyl Acetoacetate (sugarbeet); Geraniol (palmarosa oil); Linalool L (cinnamomum camphora); Mandarin Oil
---